Homeschool support groups help families feel connected and provide many options for home educators. Support groups (SGs) may be the formal variety (with meetings and dues), or it may be a few families who get together for playdates, field trips, park days, and other group outings.All homeschool groups on our list seek to serve families who meet the definition of homeschooling, meaning that while the children participate in the group, the group will not attempt to become an authority over the student's education.
Homeschool groups come in many shapes and sizes. With a little research, home educators can understand the types of groups available and easily find one that best aligns with their family's goals.
The following is a non-exhaustive list that homeschool group leaders can use to categorize their group or organization.
Read ahead:
What types of homeschool support groups are available?
Local Support Group
A support group (SG) is an association of independent homeschoolers organized for the purpose of assisting and encouraging each other as they pursue home education for their children.
SGs are driven by some form of leadership, typically dependent on group consensus.
Policies, practices and procedures are typically found in bylaws, depending on the size, structure and functions of the group.
Many hold regular meetings, whether park days or other types of meetings.
SGs facilitate special events to encourage and support homeschool families. These include field trips, workshops, curriculum swaps, performances, science fairs, spelling bees, clubs and more. They also facilitate graduation ceremonies.
SGs are a nonprofit operation.
Homeschool Extracurricular Association
A homeschool extracurricular association (HSEA) is a support group for homeschooling families.
HSEAs are run by a group that caters specifically to homeschoolers.
The association focuses on a specific area of study, exploration or recreation. This includes chess club, astronomy club, 4-H, Boy Scouts, band, choir, theater and athletic groups.
Homeschool Virtual Group
A homeschool virtual group (HSVG) is an Internet-based support group for homeschoolers.
HSVGs are run by an individual or group that is designed specifically for homeschool families.
The group is typically established to benefit other homeschoolers utilizing a particular curriculum, resource, method of teaching, philosophy or some other commonality.
Be careful when searching for virtual homeschool groups, as virtual online programs and schools are the most prevalent when searching—there is a difference.
Homeschool Co-op
A homeschool co-op is a support group of homeschooling families.
Co-ops facilitate group academic or extracurricular teaching.
The group brings in outside teachers or private contractors for instruction, the classes are led by families within the group or co-ops can feature a combination of both.
Homeschool Playgroup or Field Trip Group
A homeschool play group or field trip group is a support group for homeschooling families.
The group meets regularly at a park or another designated place for learning.
The group also schedules field trips to provide homeschoolers with additional opportunities for learning, encouragement and edification with each other.
Special Needs Support Group
A special needs support group (SNSG) serves families of children with special needs.
We care especially about families who are homeschooling students with special needs. If there is not a special needs support group in your area, we invite you to visit THSC's Special Needs Nook and communicate with other families in this virtual special needs support group, which is a THSC Partner Group, SPED Homeschool.

Homeschool Resource Center
A homeschool resource center (HSRC) is a privately funded organization that offers services exclusively to the homeschool community.
These services include book and teaching material loans, equipment rentals, acting as a clearinghouse for private and in-home tutorial services, rental spaces and counseling.
Unlike most support groups, these organizations are typically run by non-homeschooling individuals. They may also be focused on distributing products and services to the larger homeschool community.
HSRCs are supportive of parent-led education and function as a separate "executor" of the parent's educational goals.
Group Class Communities
A group class community (GCC) is typically a type of support group for homeschooling families.
GCCs are similar in structure to a co-op or private school, although it is designed to encourage more parental involvement than a traditional private school.
Communities typically meet once or more per week and have a rigid schedule.
Students complete some work at home under parental supervision.
Teachers typically use a form of standardized grading system.
Teachers are typically contracted or hired through an application process. They might be group members or contracted from outside group membership and paid by the group or parents.
GCCs are supportive of parent-led education and function as a separate "executor" of the parent's educational goals. Some examples of how they accomplish this include:
GCCs offer specialized training for the teachers in their programs
GCCs might offer a homeschool program within a private program that may not exclusively serve homeschool families.
Important to note: If the private school creates the transcript and diploma, the student is likely to be considered a graduate of the private school. If the private school acting as a GCC offers a homeschool program, they might issue grades for the students. You will include classes from this GCC on your child's transcript that you create.

Regional Group
A regional group (RG) functions as the hub for several other homeschool groups and support organizations.
RGs generally consist of a board of directors, full constitution and/or bylaws.
The group's primary focus is to connect, encourage and serve support groups in its region.
The group typically sponsors events and activities that are best accomplished by several groups working together. This includes book fairs, seminars, leadership training, debate tournaments and other events.
The parent is responsible for preparing the student's transcript, determining the requirements for graduation and issuing a diploma.
Additional information and details on Regional Groups can be found at the THSC Regional Groups page.
As the popularity of homeschooling is rapidly growing, so are the opportunities. These options also increase the aspects that we must consider to find the right fit for our families and homeschooling needs.
Maybe you are looking for class opportunities that would be better in a group setting, like drama, labs, PE, music, choir, speech and debate, art, yearbook prep, clubs, etc. Homeschool groups can be a great way to fill in some of those options.
Are Homeschool Groups and Homeschool Co-ops the Same Thing?
General homeschool groups or support groups tend to be more informational; settings where you can discover area field trips, homeschool classes, park days, homeschooling 101-type classes, group parties, group family events, graduations and more.
Typically, co-op groups are made up of a group of homeschool families who meet one day a week or more and work cooperatively, usually offering core classes along with electives for a well-rounded academic day. The teacher of any given subject will give instruction that day, and students will often complete the work that day. Occasionally, especially for a core subject, the student will work on the material learned until the following week, when possible assignments may be due.
Co-op groups can be made up of as little as two families with as many as hundreds of different families. Everyone works together—from watching babies to teaching high school classes—for the common good of all of their children and families.
Co-ops can meet in homes, churches, community centers and even in parks. In most cases, you can still learn of area homeschool classes and events through these co-op groups as well.
Homeschool groups and co-ops are both fantastic options for homeschool parents to meet new families, learn from more experienced homeschoolers, possibly learn to co-teach, be around other like-minded parents and find other students around their children's ages.
Giving your children the opportunity to be around like-minded children can facilitate the building of friendships that may continue for many years to come. Groups or co-ops can also be great for classes or subjects that you may not want to teach your students (which can sometimes be better as a group experience, such as dissection in biology).
Keep in mind that the homeschool parent is responsible for the child's academic education, even when they use a co-op (or any other type of homeschool program for that matter) as one of the many ways to meet some of the child's needs. This would also include keeping records and the issuing of the high school transcript and diploma, which should ultimately be done by the parent.
Try to ask other families that homeschool about area-specialty classes that may offer art, music, mathematics, science, literature or history to homeschool students. Most of these subjects are available depending on where you live.
Classes may advertise through local homeschool groups in your area. These are usually led by teachers who love the courses that they previously taught and who may prefer a private teaching option (over teaching in public school) to lead subjects that they love.
How Can I Find a Local Homeschool Support Group?
Texas Home School Coalition has partnered with many homeschool partner groups to serve Texas families.
If you are asking, "Are there any homeschool support groups near me?" you can find a local homeschool group in your area. Connections with other homeschoolers provide important information, ideas, activities and many times, much-needed advice and encouragement and they are highly recommended for you and your children.
If you are a homeschool support group that has not requested to be a THSC Partner Group, you may contact THSC to be added to our searchable map. This free map on our website allows families to easily locate your group by simply entering their zip codes and contacting local groups to learn more. There are also many benefits for a support group that accompany your partnership with THSC ($20 discount code for THSC membership, a leader's guide, leader downloads, background checks, child protection training, group liability insurance, promoting your group, group presenter request, promotional material request, promotional graphics, leader blogs, group discount, THSC Rangers program).
How Can I Start My Own Homeschool Support Group?
It all starts with a thought about getting together with other families and working together—the possibilities are endless. Maybe you have a friend that is also homeschooling. You can start by talking about what you would like to see happen, what goals you may have and the benefits to gain for other families as well as your own when you come together with a plan.
Every group starts somewhere, so it is vital to start off with a mission statement and your own set of guidelines to follow. As the group grows, you may need to adjust these guidelines to accommodate those changes. Discuss things such as where you will meet, how often and for how long.
You will want to pick a name for your group, decide if each family will need to commit to teaching or if will you hire outside teachers, what age groups you may want to have, which subjects to study, how you will go about purchasing the books needed, and discuss membership fees for families as well as classes.
It is best to start with a few families and gather your thoughts and needs before you start adding in more families. That way you have a basis for what your needs are for your families and the direction that you may want to go from there for your co-op. If other interested parents don't wish to participate in the activities or mission of your co-op, they can find another co-op or start one with their needs in mind.
Once you have a few families and wish to grow in size, find ways to get the word out about your group. One way is to request to add your group to our growing list of support groups. Social media is another great way to get the word out; you can usually advertise within other homeschool groups in your area as well as churches, libraries and any locations that children may attend.
With the homeschooling community growing every day, try holding a homeschool 101-type of informational meeting and advertise in any way possible. Get a group of families together to meet for park days on a certain day of the week, or go on a field trip (and you are likely to run into other homeschool families out enjoying the fun as well). Some groups have T-shirts with their group names on them to help spark conversation.
The more families that join, the more likely you are to encounter challenges.
THSC recommends that you consider creating your bylaws and writing your handbook to explain the policies for your group to follow. This eliminates confusion and frustration later and can even protect your ability to set limits in your group.
THSC Partner Groups will have access to "Bylaws: Under Construction" which can help you write clear, comprehensive bylaws that protect your group and the families you serve.
Another THSC Partner Group benefit is the Leader's Guide, which provides advice and answers to tough questions facing homeschool group leaders in today's homeschool communities, including:
Basic group organization
Sample documents, bylaws and statements of faith
Handling finances and insurance
Public relations
Group membership forms
Volunteer management and recruitment
And much more!
The more families and students that you have, the more you will need to get organized. One person should not do this alone or burnout will be inevitable. Consider starting with a leader over each section of grade levels (for instance, have one leader over each—preschool, early elementary, upper-level elementary, intermediate and high school departments).
You may also need to initiate a committee or a board of directors for your co-op to help with the broader picture of details. That also brings along more challenges to face as well, which is why it is vital to start with your own set of bylaws and guidelines. THSC has many leader resources to help you along the way, and questions are always welcome at leaders@thsc.org.
G Suite for Education and Homeschool Groups
THSC Partner Group Leaders can access the Google G Suite for Education that's now available to homeschool groups!
Ready to request your G Suite code? Find out more about G Suite for THSC Partner Groups.
Already a THSC Partner Group? Login and request your code.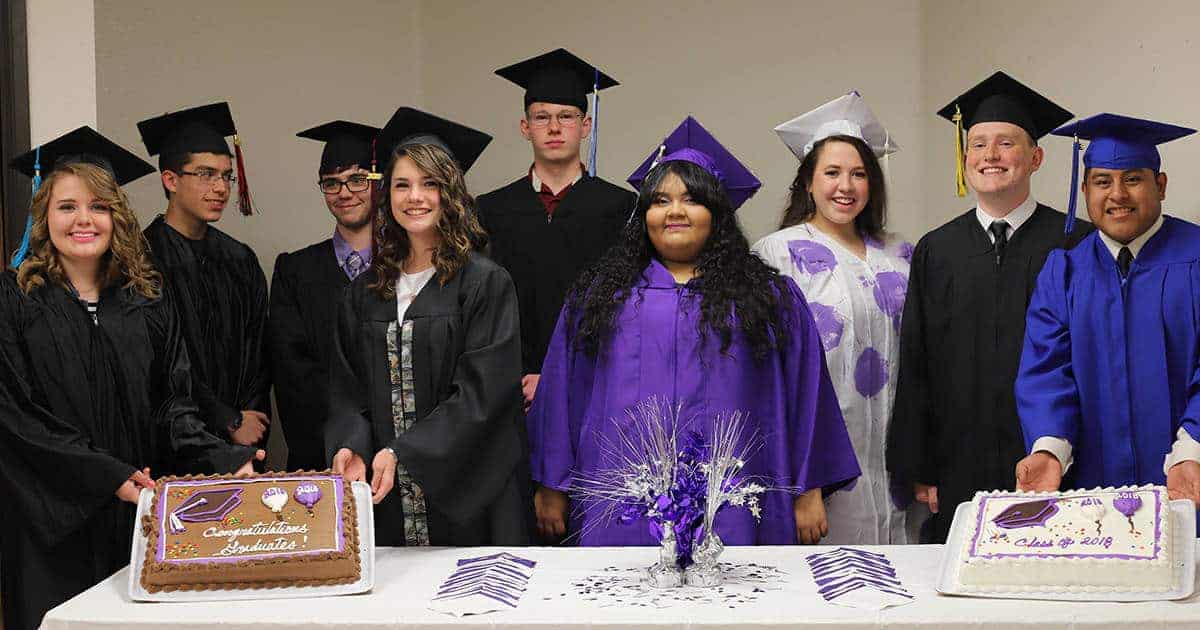 THSC Partner Group Showcase:
Grace Christian Educators
Grace Christian Educators in Johnson County has about 40 families in classes each semester. 2018 is one of their largest graduation classes so far. Celebrate with Rachael, Micah, Matthew, Abigail, Jonathan, Sumer, Moriah, Jonathan and Travis!
THSC Partner Groups—want to promote your groups? Visit the Leader Resource page.We believe that homeschooling is the best education model, which is why we encourage homeschool group leaders. Won't you consider affiliating with THSC for support or signing up for emails for encouraging posts specific to your needs as a leader?
Valerie Bolieu
Valerie Bolieu is a daughter of the one true King! She is a support group leader of a South Texas co-op group in the south Houston/Clear Lake area and works as a customer relations and intervention specialist with THSC.
She loves the Lord and her four kids and two grandchildren with all of her heart. Valerie has been homeschooling for 24 years; three of her children have graduated, and there is one still to graduate in a few years.
Valerie enjoys serving in ministry, whether it is with the church, homeschool groups, or working with THSC. She also loves outdoor activities and spending time with her kids and grandchildren.